This summer the Chicago Pitch & Hit Club lost Bill Haller and Mary Frances Veeck. The Club will forever be grateful for their contributions, not only to the club, but also to the game of baseball
Bill Haller

William Edward "Bill" Haller, 87, of Vandalia, formerly of Lockport, passed away on August 20, 2022 at the VA Medical Center in Marion, IL.

William Edward Haller was born February 28, 1935, in Joliet, IL the son of Frank J. and Julia V. (McGee) Haller; raised in Fairmont, a blue-collar neighborhood in Will County. Bill graduated from Fairmont Grade School and Lockport Township High School. He graduated from Joliet Junior College; while there, he excelled in baseball and basketball.

He married Sally Lee Bumber on February 29, 1964; together they raised two children.
Although Bill wore many uniforms throughout his career, the one that made him most proud was the United States Army uniform he wore for 2 years after his enlistment in 1955, including 16 months in Korea.

Following his military service, Bill had a long and distinguished career as a baseball umpire. He began umpiring in 1958; starting his professional career for Major League baseball in 1962. During that time, he worked 3,068 games including 4 All Star games,4 World Series, and 4 American League playoff series. He even umpired home plate while his brother, Tom, crouched down in front of him as the catcher for the Detroit Tigers; this was the first and only brother umpire/catcher combination in any game in Major League history.

After his retirement as an umpire, he continued working for Major League Baseball as the assistant supervisor of umpires; a scout for the Chicago White Sox and New York Yankees; and initiated the MLB umpire development program, where he remained until 1994.

Bill was well known in Major League Baseball as a no-nonsense umpire, often referred to by many as "that legendary Major League umpire" but he was much more than that….
Bill was a loving husband, father, and grandfather; he was very involved in the Brownstown and Vandalia communities, was a member of Emanuel Methodist Church in rural Brownstown, honored fellow Veterans by performing military rites, and would treat his friends to MLB baseball games; even with his popularity and successful career Bill remained humble.

He is survived by his wife, Sally Haller; son, Albert (Amie) Haller; daughter, Jenny (Doug Daniels) Patton; grandchildren, Kelsi Haller, Sydney Dial, Brooke Haller, Jessy Patton, Mitchell Haller, and Joshua Patton.

He was preceded in death by his parents; brother, Tom Haller; and sister, Joyce Ganz.
Mary Frances Veeck
From https://www.davehoekstra.com/2022/09/22/mary-frances-veeck-1920-2022/
There were clouds, but Mary Frances Veeck never paid much attention to them.
After I heard of the Sept. 10 passing of Mrs. Veeck I began to realize that almost every time I saw her we were sitting outside. The first time was opening day April 1976 in the Comiskey Park bleachers after her husband Bill bought the White Sox. Mr. and Mrs. Veeck looked me in the eye as we spoke. I was just a kid among 40,300 happy fans.
In July 1991 I drove to Cooperstown, N.Y. to fact-check the idea that Bill Veeck was actually entering the Baseball Hall of Fame. Mrs. Veeck stood tall and proud as she introduced the memory of her husband to fans sitting on blankets and lawn chairs in the warm New York sun. People were smiling more than usual. On a warm day in early October 2005, I sat with her in the courtyard of her Hyde Park apartment to talk about the White Sox World Series appearance.
The last time I saw Mrs. Veeck was in August 2020. Her daughter Marya and I visited her in the courtyard of her Hyde Park retirement home. She was turning 100 years old on September 1, 2020.
Mrs. Veeck was a woman of impeccable style, grace, and humanity. In some ways, she reminded me of my mother, who was born in 1921. They saw parts of the world through a window but that did not encumber their hopes. Mrs. Veeck was born four days after the certification of the 19th Amendment that gave women the right to vote.
The Veeck children were told to wear white gloves to baseball games. Mrs. Veeck taught her daughters how to wear hats, with a gentle tilt towards tomorrow. Mrs. Veeck would buy Mr. Veeck's white sport shirts and blue sport coats on an annual basis. But he never wore a tie.
Mary Frances Ackerman was born outside of Pittsburgh, Pa. Her father Raymond was an accountant, and her mother Theresa Jane raised four children. While in high school Mrs. Veeck developed her love of theater and music and they were lifelong passions until her death. She joined the Pittsburgh Playhouse ensemble in her teens and remained in the cast while attending Carnegie Tech in Pittsburgh.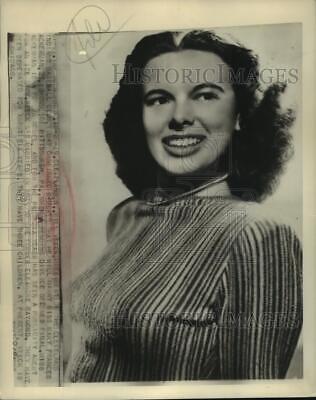 Mary Frances met Bill Veeck in 1949 when she came through Boston as a publicist for the Ice Capades. Her stories of crisscrossing America by rail and traveling through Europe to promote the show gave her children the first glimpses of how big the world could be. Sportswriters called her "The World's Most Beautiful Press Agent." Bill Veeck proposed to her a week after they met. And they were engaged a week after that.
Mary Frances and Bill were married in 1950 at the Cathedral Basilica of St. Francis of Assisi (founded in 1610) in Santa Fe, N.M. after Bill converted to Catholicism.
Within the first nine years of their marriage Mr, and Mrs, Veeck lived in Cleveland, Los Angeles, St, Louis, and on two ranches near Tucson, Az. Bill died in January 1985 from emphysema in Illinois Masonic Hospital in Chicago. He was 71 years old. In accepting the hall of fame plaque for her husband, Mrs. Veeck said, "He was such fun to be around. He was a pied piper."
And the best kind of fun keeps on marching.
In 2020 Mrs. Veeck remembered how more than 20,000 fans met the White Sox at Midway Airport in September 1959 after they clinched the American League pennant. Hall of Famer Hank Greenberg was Vice-President and General Manager of the '59 Sox and a close friend of the Veecks.
Known as "The Hebrew Hammer" during the 1930s, the Detroit Tigers first baseman was regarded as baseball's first Jewish superstar. After clinching the pennant the Veecks and Greenberg roared through Chicago's nightlife. The Singapore on Rush Street. Fritzel's for dinner. "We were insanely happy," Mrs. Veeck told me in 2005. "We danced all around town. We always danced. Our kids always talk about seeing their mother and father dancing in the kitchen."
Bill Veeck had a wooden leg.
He lost his right leg in a 1946 accident while in the Marines. Mrs. Veeck recalled how the family wore out the 1962 soundtrack to "The Music Man." On the eve of her 100th birthday, she leaned over and told me, "I've had a lot of lives according to the music."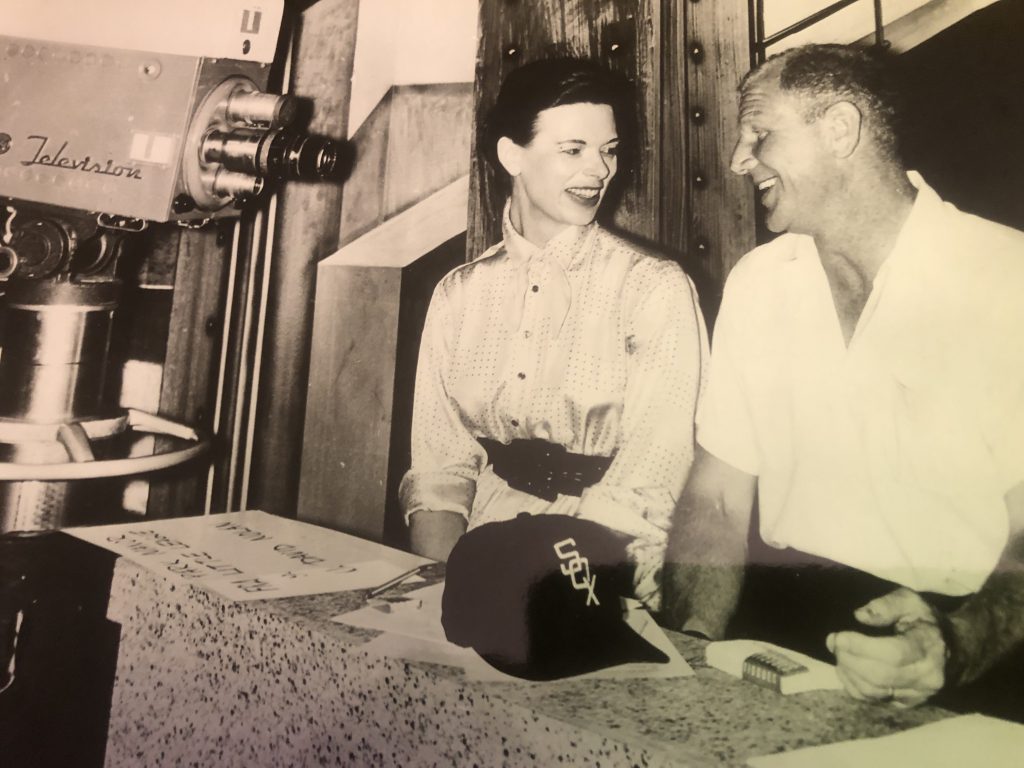 In 1961 the Veeck family moved a house in Easton, Md. on the Eastern Shore of the Chesapeake Bay. Bill had lost 50 pounds and was thought to have a brain tumor. It turned out his headaches were caused in part by his smoking habit. In 2020 former Easton neighbor Millie Houck wrote me and said, "I remember Mr. Veeck coming to the Talbot Country Club, sitting on the edge of the pool, taking his leg off and swimming several lengths of the pool underwater! I also remember Mrs. Veeck riding her tricycle to town."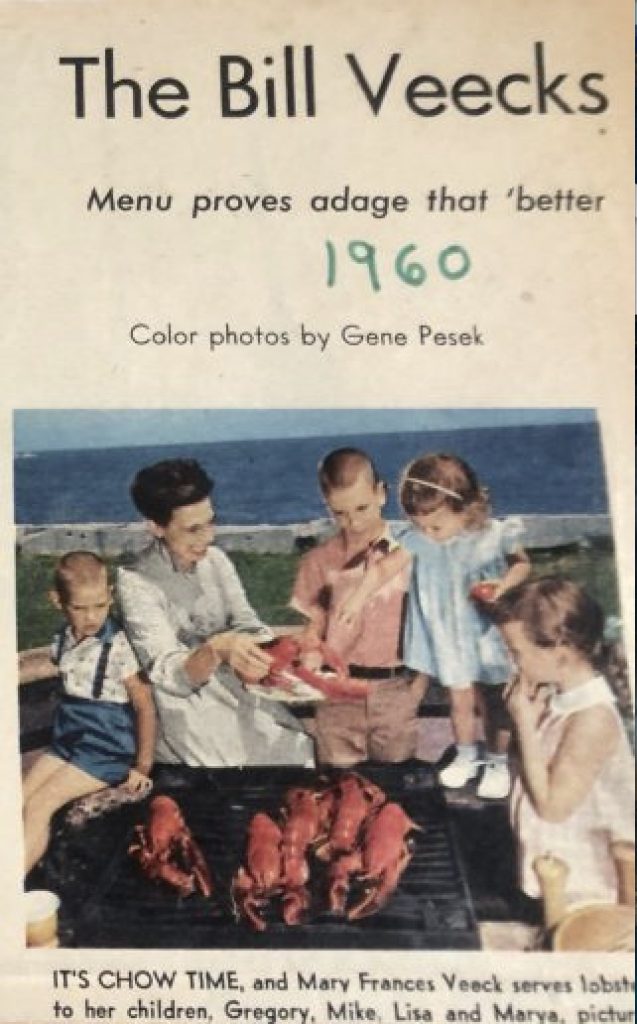 Mrs. Veeck uplifted the family and oversaw Bill's construction of a Maryland greenhouse where he began to grow orchids. They loved being outside. Mr. and Mrs. Veeck named the house "Tranquility" although they had a pet armadillo, pet hamsters, and at one time 18 dogs in the two-story farmhouse.
The Veecks were fierce champions of social equity.
After settling in Maryland Bill bought the crumbling Suffolk Downs race track in Boston.
In 1968 he became an advocate of female jockey Penny Ann Early at a time when women were not permitted to ride. Visitors to the Veecks' Maryland home included comedian-activist Dick Gregory, and family friend Larry Doby, the first Black player in the American League.
The Veecks once hosted a dinner party for Cuban outfielder Minnie Minoso inviting their neighbors that Chicago baseball writer Jerome Holtzman called "mostly the landed gentry, fiercely opposed to integration." Minoso won over the neighbors and became the star of the show. Gen. George Gelston (the Maryland National Guard leader who preached peace) had been to the Veeck house.
At her Hyde Park retirement home, Mrs. Veeck befriended Wyonella Smith, a fellow resident and the widow of Chicago journalist and civil rights leader Wendell Smith (1914-1972). Wendell was credited with recommending Jackie Robinson to the Brooklyn Dodgers, which broke baseball's color line. Wyonella Smith died in 2020 at the age of 99.
Some will remember Mrs. Veeck as the designer of the blue shorts the White Sox wore for three games in August 1976. Mr. and Mrs. Veeck defended the look saying they had "understated elegance." The White Sox won two of the three games they played in the shorts. But her long life was so much more than that.
Mrs. Veeck was a Chicago election judge for more than two decades. She was a Hyde Park co-op volunteer and taught many adults to read through a program operated by St. Thomas the Apostle Parish. She was at old Comiskey Park every day until Bill sold the White Sox in 1981.
She co-hosted a Sunday morning "Mary Frances and Friend" radio show with her husband on WBBM-AM in 1989. They once criticized White Sox announcer Jimmy Piersall who fired back that Mrs. Veeck's best place would be "in the kitchen." Little did he know how much she danced in the kitchen.
In her later years Mrs. Veeck helped raise money for the Catholic Theological Union (CTU) and the CTU art gallery is named for Bill and Mary Frances Veeck. Mrs. Veeck also helped raise funds for the trauma center at the Illinois Masonic Medical Center, which became something of a revolving door for Bill Veeck.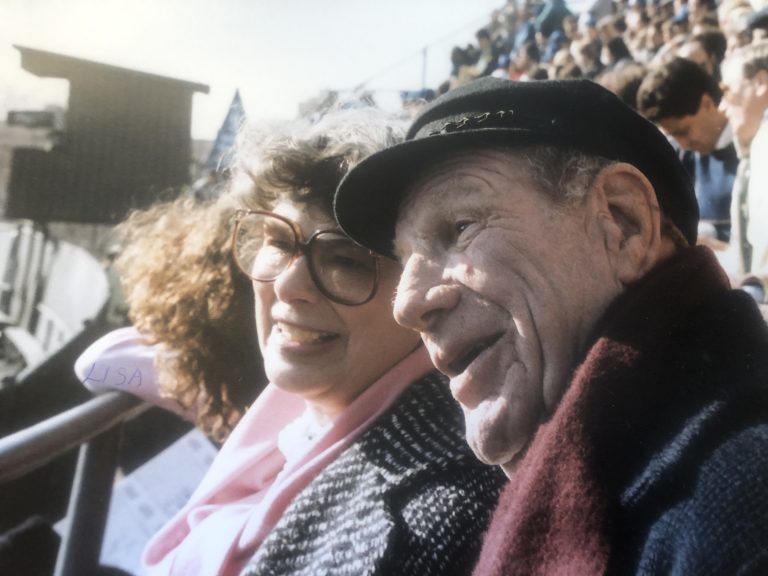 On Opening Day 1985 at Wrigley Field, the Veecks bought 100 bleacher seats as a thank you to doctors, nurses, and their families. It would be Bill Veeck's final opening day.
Bill endured 33 operations. Mrs. Veeck was always by his side.
In May 1993 Mrs. Veeck and her family held a dinner dance benefit for the Illinois Masonic trauma center at the Drake Hotel. Family friend Bill Murray was there. The late Chicago sportswriter Bill Gleason was the master of ceremonies. The Bradley Young Orchestra played. And people danced all night,
Bill and Mary Frances had six children. Marya is an artist who has operated her August House studio since 1987. Mike is an owner of the St. Paul Saints and co-owner of the Charleston River Dogs. Gregory is a retired geography professor and Lisa is the owner of Clean Communications Company in Chicago. Their daughter Juliana died of cancer in 2010. She was a clinical psychologist and mother of three children. She was 48 years old. Christopher died of a heart ailment in 1995. He was head of the Pavilion and Summit sports complexes in Houston, Tx. He began his career working at Comiskey Park. He was 32 years old.
Mrs. Veeck was also the grandmother of William Night Train Veeck, Sarah Veeck, Robin (Veeck) Balaga, Christian Brosnan, Jack Brosnan, Oliver Brosnan, Patrick Veeck, and the late Rebecca Veeck and Katherine Veeck. She was also the great-grandmother of Adam Casper Balaga, mother-in-law of Libby Veeck, Ann Veeck, Scott Smith, Don Sanetra, and Tom Brosnan, and great-mother-in-law to her granddaughter's husbands Alex Entrekin and Lukas Balaga.
Bill would call Mrs. Veeck every night while on the road. He missed his family and love in constant bloom. And there were lots of gardens. After all, Bill helped plant the Wrigley Field vines of ivy in 1937. The Veecks celebrated Christmas, New Year's Eve, and….Arbor Day.
Bill once planted a bed of daffodils that formed Mrs. Veeck's initials, "MFV" almost like "MVP." And he did that for 35 years right outside their front window. Mrs. Veeck liked to say, "Every woman should have the chance to be courted by Bill Veeck." And everyone should have the chance to meet someone with the dignity and empathy of Mary Frances Veeck.
With love, the sky has no limits.
A celebration of Mrs. Veeck's life will be held at 11 a.m. Nov. 12 at St. Thomas the Apostle Catholic Church, 5472 S. Kimbark Ave. in Chicago, followed by a reception at the Catholic Theological Union, 5416 Cornell Ave. In lieu of flowers, donations may be made to St. Thomas the Apostle Church or CTU.